SITUATION
The client is one of the countries most recognizable brand names in the retail industry. The client initiated a discussion with the Value Sourcing Group strategic sourcing team regarding engagement of their contract negotiation services.  Although two years remained on their contract, the client wanted to renegotiate with their current voice and data provider to obtain current and competitive rates.  After an evaluation of other options in the market as well as assessing their own internal capabilities, the client decided to engage Value Sourcing Group's directed telecommunications negotiation methodology.  This solution allows the client to work with Value Sourcing Group in developing a comprehensive strategy, while having Value Sourcing Group execute on their behalf with the help of proprietary software, access to up-to-date market rates and seasoned telecommunications negotiation experts.
SOLUTION
The first phase of the project involved Value Sourcing Group performing a detailed rate benchmark to determine how well the current deal stacked up against best-in-class deals obtained by similar size companies. After this initial benchmark, Value Sourcing Group's analysis indicated the client should save $1.4 million annually. Upon conducting a Strategy Development Session with the client and analyzing current market conditions and vendor mix, Value Sourcing Group's team recommended the client wait to renegotiate until twelve months out from contract expiration.  The clients CIO was surprised by this advice and resisted the delay, thinking the savings would be similar and show up sooner if they renegotiated now.  But Value Sourcing Group was able to convince him the three year economic impact would be much greater by waiting until closer to contract expiration.
In the following spring Value Sourcing Group issued a competitive bid and quickly began evaluating bids from the major vendors. It soon became a competition for high profile business between Vendor A (the incumbent) and Vendor B with each vendor proposing significantly lower rates.
The graph below demonstrates the downward progression of monthly rates during the multiple negotiation rounds.



RESULTS
Vendor B's proposal came in below market and the client was very close to leaving their incumbent provider. But, at the end of the day, Value Sourcing Group was able to receive a matching offer from the incumbent provider eliminating the need to switch carriers. Overall, the client obtained the following results, ensuring a dramatic positive impact to their bottom line:
$11 million plus in savings over three years
Overall reduction in spend of 58%
Original offer was reduced by more than $5 million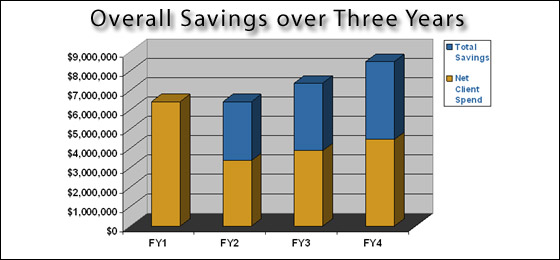 IN CONCLUSION
This case study is an example of the results which may be obtained by applying patience and strategic thinking.  Value Sourcing Group and the client worked together closely by utilizing a superior understanding of the current market rates and where they could be driven.  The  ultimate result was achieving a best in class deal.


VALUE SOURCING GROUP OVERVIEW
Value Sourcing Group, LLC was established with offices in Atlanta, GA and Franklin, TN (Nashville) to serve clients throughout the United States.  Founded by two senior telecommunications consultants with over 25 years of combined directed negotiations experience, Value Sourcing Group provides tried and proven methodologies, processes, research, analysis and expertise in driving high value results for its client base.  With access to multiple pricing data repositories plus key research and analytical resources, VSG enters all projects with current market place rate knowledge as well as factual and relevant industry information.  Exceptional savings results and enhanced contract terms and conditions are the rule rather than the exception due to the level of experience and knowledge possessed by each negotiator.